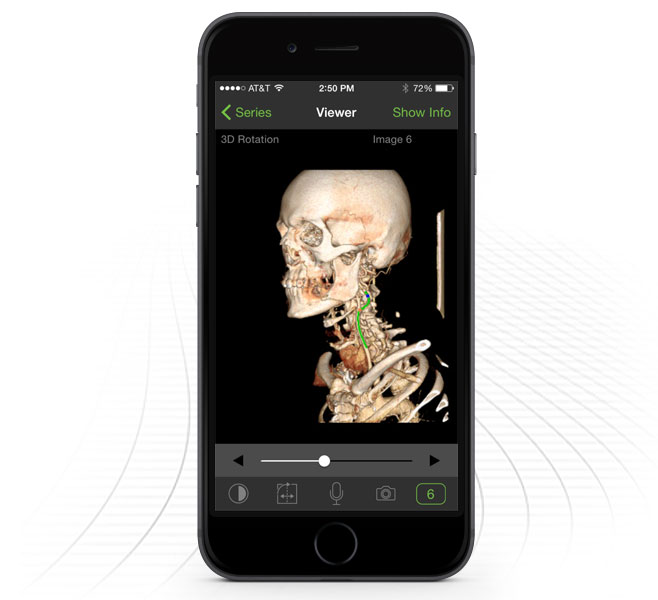 Care providers require intuitive imaging results, and Visage Ease delivers. Compared to x-ray film or patient CDs, the Visage 7 Enterprise Imaging Platform in combination with Visage Ease provides a much richer and convenient form of imaging results communication. Authorized users have access to imaging results, when and where they need it. Developed as an native app, Visage Ease imaging results are intuitively displayed in portrait or landscape mode, and are optimised whether viewing on iPad, iPhone or iTouch devices. Visage Ease enables the visualisation of images, as well as the radiology report (if available), taking advantage of iOS's multi-touch gestures and Visage Ease image controls for optimal usability.
Visage Ease Imaging Results Differentiation:

Visage Ease is a native app optimized for iOS, and is a free download from the Apple iTunes App Store.

Visage Ease is inherently intuitive, requires no advance training, with only a username, password, and server address required for imaging results access.

Simple, fast access to images, with gesture-based, one-click scrolling, pan, window/level (W/L), zoom, flip, rotate, DICOM overlay, and CINE controls. All image controls are all active and available even when images are in CINE mode.

For multiplanar reformatting (MPR), users are able to reformat cross-sectional imaging studies on-the-fly, displaying multiple thick-slice preset presentations from original thin-slice data; AvIP, MIP and MinIP presentations; as well as re-orientation of the datasets (Anterior/Posterior, Left/Right, and Head/Foot).

All imaging modalities supported by the Visage 7 Enterprise Imaging Platform are available for rapid display via Visage Ease, even for example, massively large DBT and Cardiac CTA studies.

For multi-series studies, double-tap on either side of the image to advance to the next/prior image series.

DICOM Window/Level presets tied to a user's Visage 7 profile are available on Visage Ease.

Visage Ease enables authorised users to attach photos and images from their iOS devices to imaging studies managed by the Visage 7 Enterprise Imaging Platform.

Visage Ease enables authorized users to attach voice memos recorded from their iOS devices to imaging studies managed by the Visage 7 Enterprise Imaging Platform.

User-defined study search queries enable rapid access to studies users are most interested in viewing.

Visage Ease supports Apple iOS Push Notifications, alerting users when new studies at the Visage 7 server match study search criteria saved with push notifications activated.

 Download Visage 7 Rays Case Study – Acrobat pdf 872k

 Download Visage Imaging eBrief – Acrobat pdf 755k

*Note: Visage Ease is not a medical device and must not be used for diagnosis.
Contact us to learn more about Visage Ease
Thank you for your interest in Visage Ease. Please tell us a little bit about yourself and your organisation, how to best contact you, as well as any other questions you may have. We'll get back to you about Visage Ease, and do our best to answer any questions you may have.