Scalability
To thrive in today's challenging healthcare environment, Pro Medicus' wholly-owned subsidiary, Visage Imaging, has architected Visage 7 to support the largest healthcare enterprises, with massive scalability complementing native speed and power.  Visage 7 is able to provide a single viewing platform for even the largest imaging organisations, including native mobile support with Visage Ease, eliminating the need for multiple PACS and countless imaging viewers that many imaging organisations struggle with today.  Notably, many organisations are choosing to implement Visage 7 in tight integration with an enterprise workflow platform plus vendor neutral archive (VNA), or the Visage 7 Archive, to dramatically leapfrog their current imaging capabilities.
Visage 7's neutral, symbiotic design is optimised to minimize legacy server-farms, as well as integrate with existing informatics infrastructure simplifying operations, maintenance, support, training, and administrative overhead.  Yes, Visage 7 allows organisations to go big, and do the seemingly impossible:  deliver cutting-edge enterprise-wide clinical functionality, while simultaneously reducing infrastructure demands and day-to-day overhead.
Visage 7 Sets New Benchmark in Scalability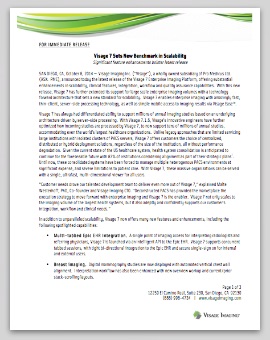 Visage 7 Scalability Differentiation:

 Visage's innovative engineers have optimised how incoming studies are processed by Visage 7, to support tens of millions of annual studies, accommodating even the world's largest healthcare organisations.

 Large IT organisations appreciate Visage's flexibility for third-party bi-directional integration to Workflow, Reporting, VNA, RIS, PACS, as well as the most widely deployed EHRs.

Visage 7 offers an architecture that supports centralised, decentralised, and/or hybrid architectures; as well as high-availability and disaster recovery solutions.

Visage 7's decentralised architecture enables optimal local and enterprise-wide operations, even under limited network bandwidth, leveraging the federation of Visage 7 servers.  Many distributed, geographically remote imaging centre organisations choose this powerful federated model.

Visage 7 enables a single enterprise-wide viewing platform where users can choose either Windows (PC) or Apple OS X (Mac), with the exact same user experience for diagnostic and clinical access.

Visage 7 leverages an application-based model, with one-time client download and auto-update.

Easing rollout and support, Visage 7 has zero plugins and does not run in a web browser.

Visage 7 has the sophistication of enterprise-class IT systems, including support for virtualisation; end user management via Active Directory, IWA and/or LDAP; as well as the foundation for flexible, robust security.

Visage 7 supports protocol handler integration, enabling the launch of Visage 7 using a single command structure across PC, OS X and iOS platforms.
*Note:  Visage Ease is not a medical device and must not be used for diagnosis.

 Download Visage 7 Rays Case Study – Acrobat pdf 872k

 Download Visage Imaging eBrief – Acrobat pdf 755k
Contact us to learn more about Visage 7
Thank you for your interest in Visage 7. Please tell us a little bit about yourself and your organisation, how to best contact you, as well as any other questions you may have. We'll get back to you about Visage 7, and do our best to answer any questions you may have.